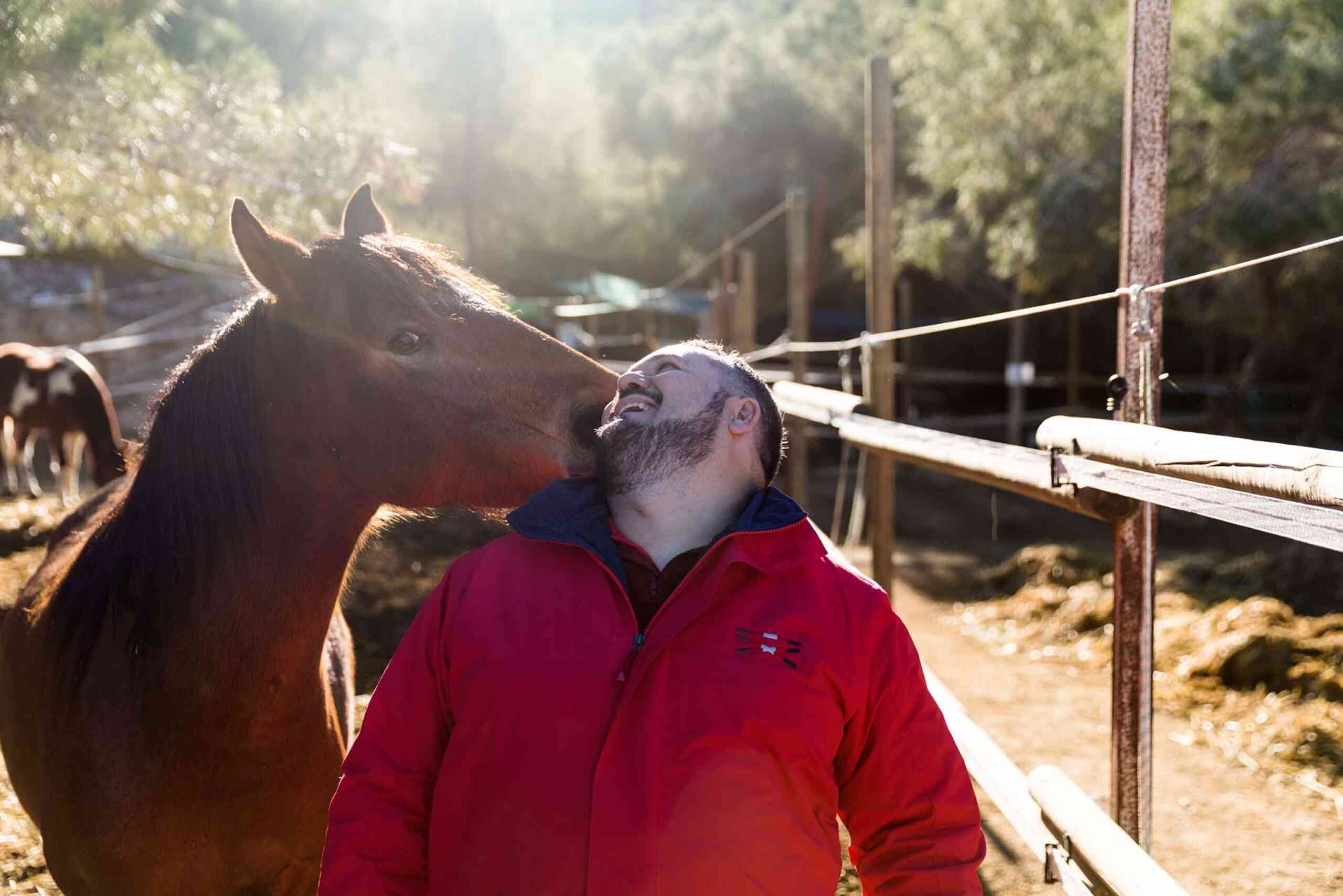 How to bring impactful banking to six countries?
Triodos Bank values people, planet and profit, and take all three into account in everything they do. The bank is a global pioneer in sustainable banking, as they are using the power of finance to invest in businesses, entrepreneurs and projects that are good for people as well as the planet.
Triodos Bank approached us with the request to update and improve their eleven websites, a number of sub-sites and apps. The websites were functional and bank-oriented while Triodos really is more than that. It is all about what you can do with your money to contribute to a positive change of people, society and the environment.
Different cultures, one goal
To properly complete such a large digital assignment, all parties involved must follow the same course. And that's not easy with six countries that all have a different idea of what's important in that new online world. Through a number of strategic sessions, we developed a Group Wide Concept that was supported by all the countries Triodos operates in. At the new online platform we will tell stories, in which the people of Triodos – whether they are customers, investors or employees – take centre stage. Together with a whole team at Triodos Bank we created a complete new online proposition for the bank.
Like-minded people
All people involved at Triodos Bank are part of a community of like-minded people who want to encourage and achieve sustainable and cultural impact to create a better world. The new international platform reflects this community. Unlike any other bank we chose to show portraits of Triodos its customers with their different products. No general images, but real people, true stories.
By turning the Triodos website into a storytelling platform, we give space to editorial articles about the many projects in which the bank invests.

Storytelling
So our idea was: let entrepreneurs express that mentality in a mini-documentary about who they are, what they do and why. Together with filmmaker Bas Berkhout, Dietwee has made eight three-minute documentaries where Triodos' entrepreneurs share their story in an inspiring way. These stories are intended to connect Triodos customers to experience even more so that we can all be part of and contribute to positive change.
Collaboration
In addition, Dietwee mapped the customer journeys of the different countries Triodos operates in, and translated them into one joint strategy. Together with Indivirtual and Triodos' extensive technical team, a future-proof platform has been developed where rapid and continuous improvements are possible. In the meantime, the online look & feel and therefore the visual identity of Triodos has also been considerably adjusted. And that's how we do what we love most: combining design and storytelling into great solutions for inspiring clients.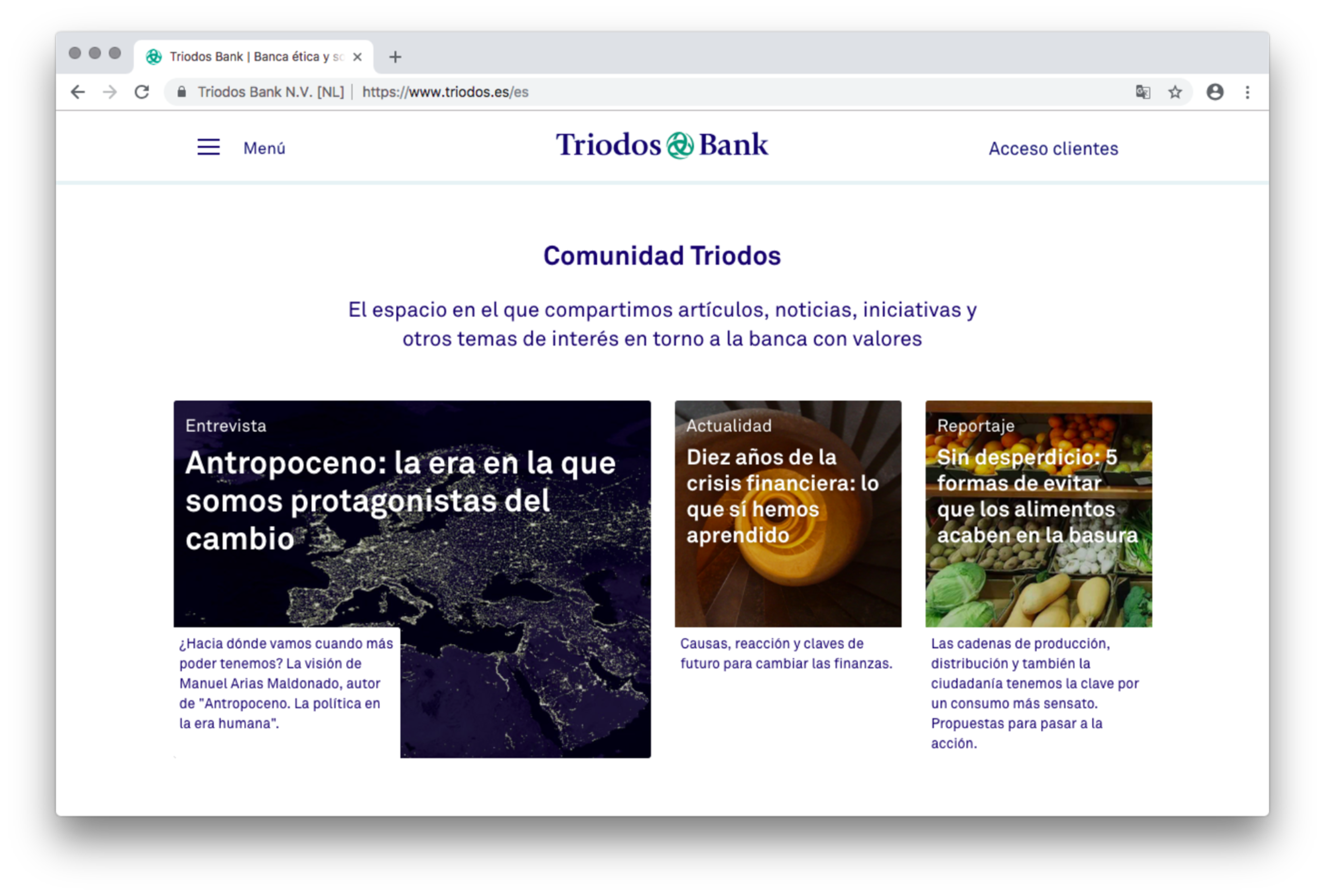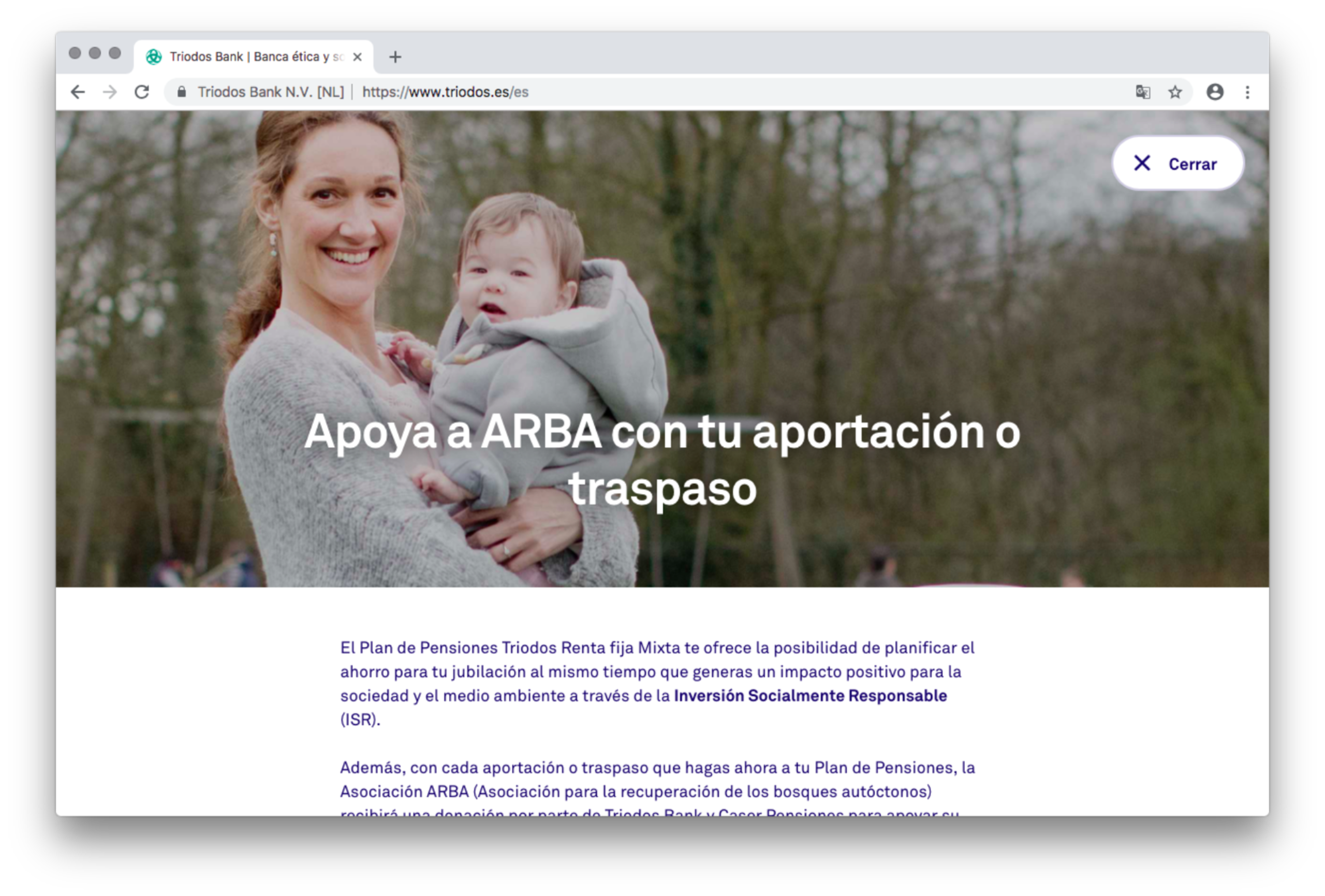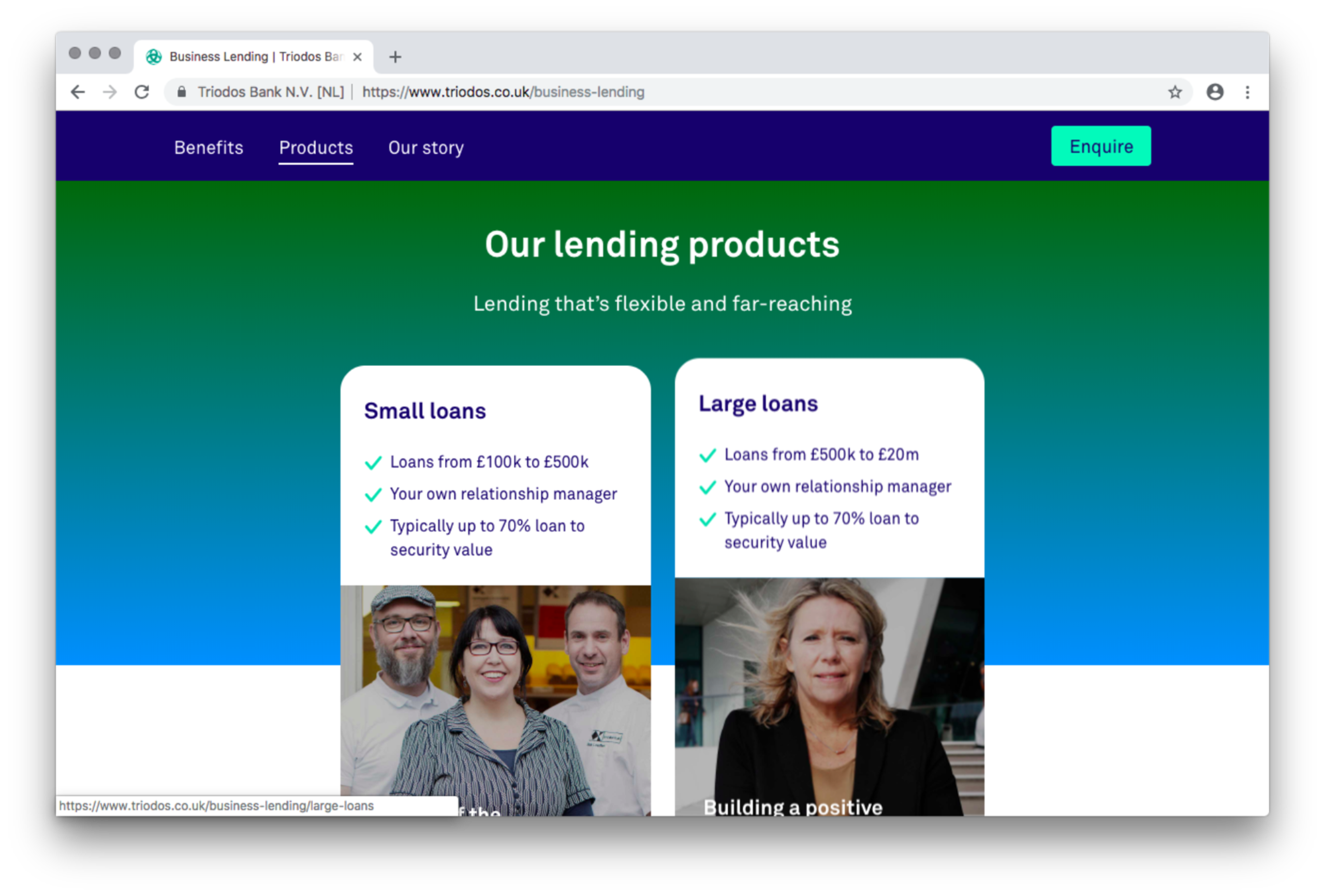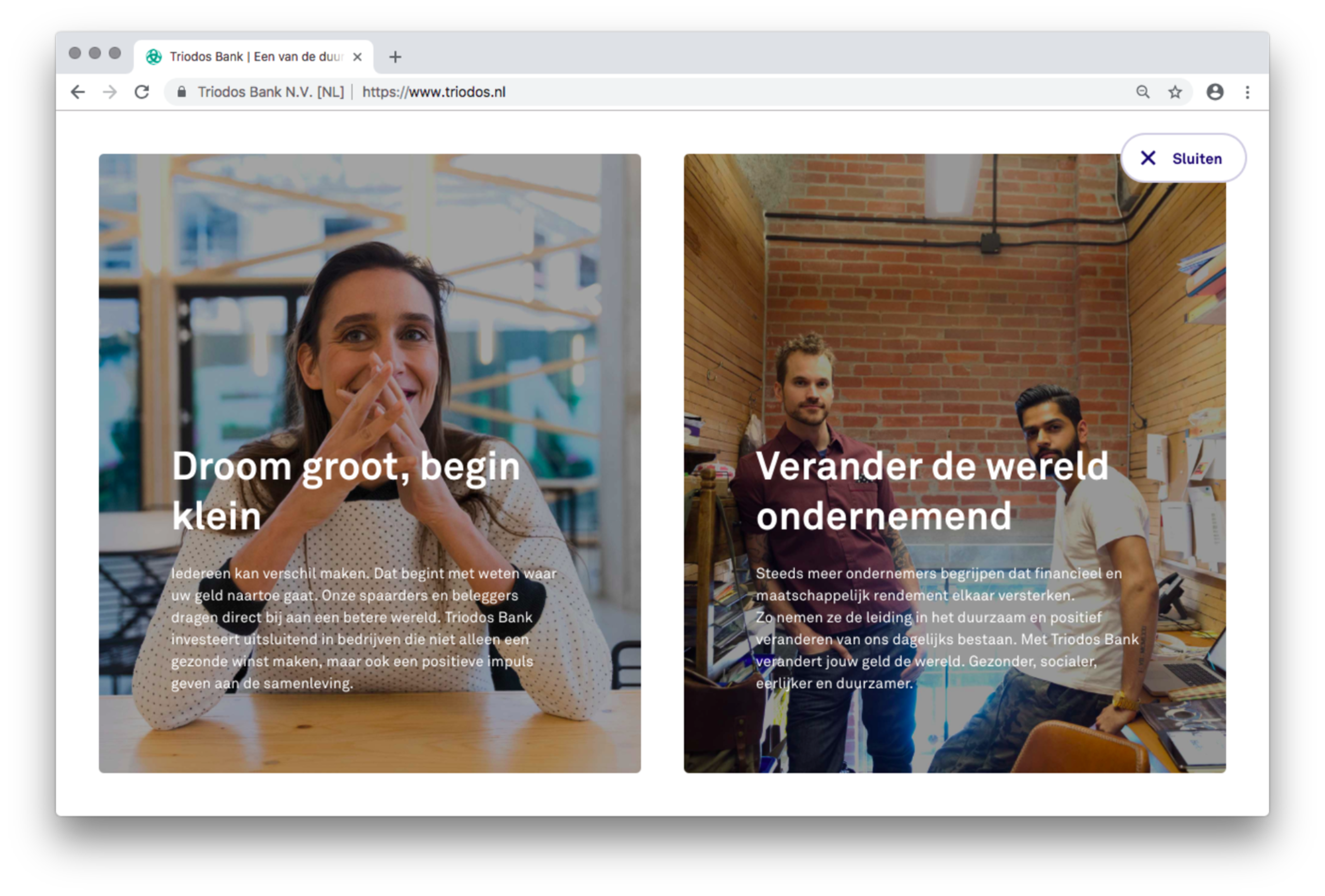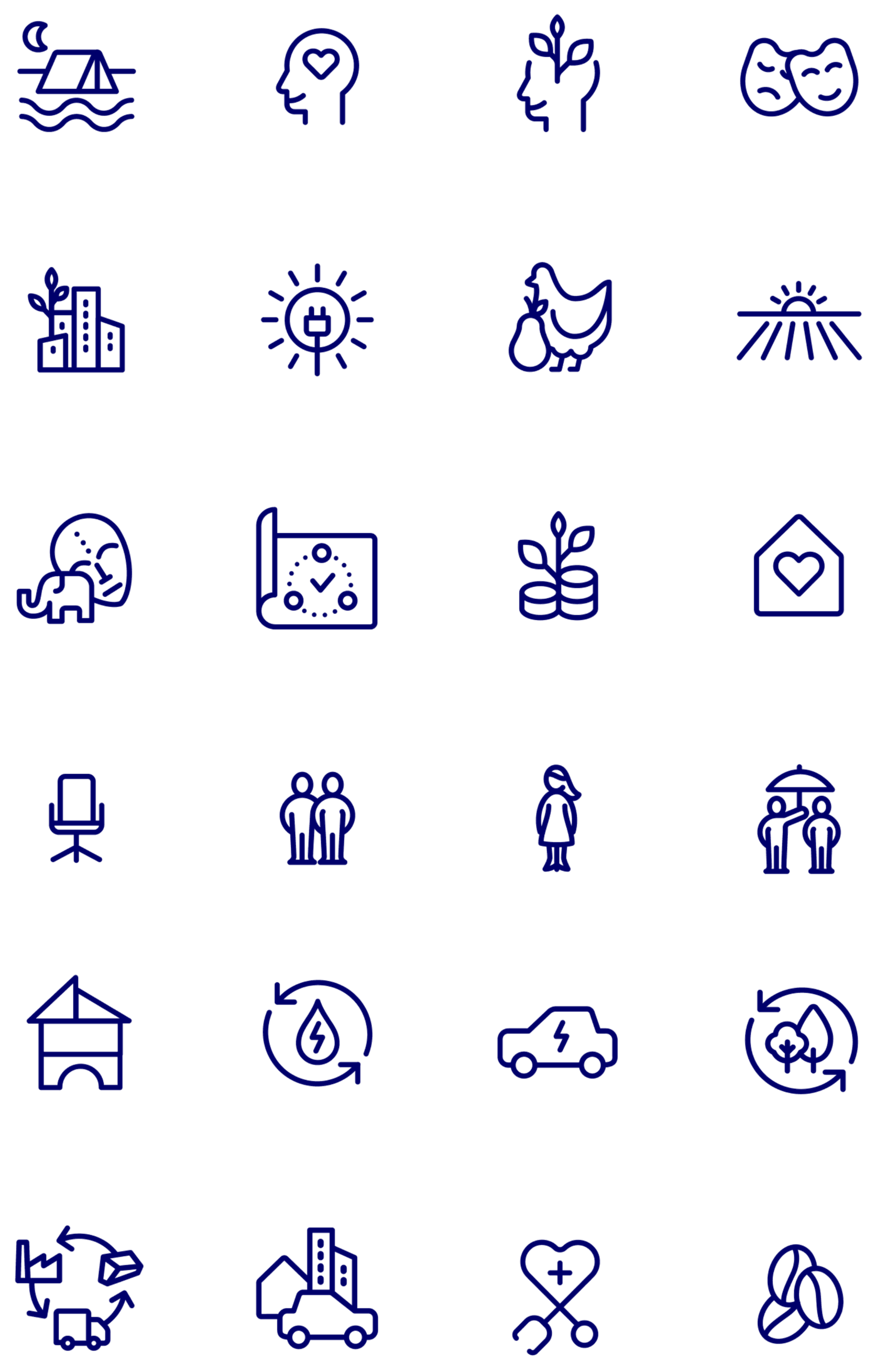 'We chose Dietwee because, in the pitch, they developed a proposal that touched in the heart of the bank and our target group. Dietwee understands what our Cultural Creatives moves.'
Greo Belgers, Director Marketing International, Triodos Bank